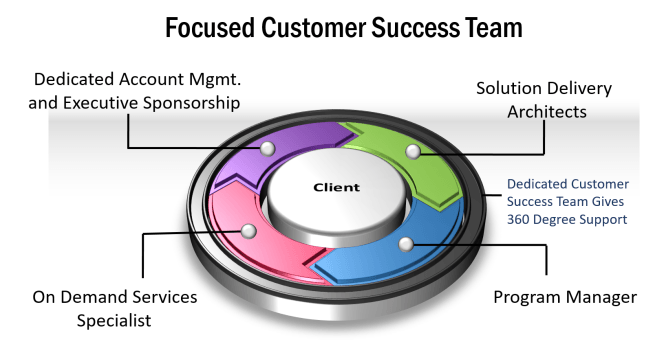 During a recent conversation with our Leadership Team, we were discussing how to organize our team in the most effective manner.  It's a pretty typical exercise we undertake every so often to make sure we keep our eye on the ball and don't create barriers to our own success or put walls in the way of our team "Getting Work Done" for our clients.  This time it was different though.  One of our newer leaders threw out a question for the group.  His question was, "Are we focusing enough on organizing for the benefit of our customers or just to make it easy for us to manage reporting relationships?"  The question spurred a very stimulating conversation that did not end until we decided as a group that we have the best customers in the industry, and we should be investing in their success and organizing around our customers needs with Success Teams that have resources focused on supporting every aspect of the relationship.
Every one of our clients is unique in the value proposition they represent to their customers.  In order to fully understand that, we are building success teams around all of our strategic relationships in 2017.  Each team will be led by a Sr. Account Executive and a Program Manager.  This duo will build their team to include the a Solution Delivery Architect lead to handle scoping of engagements, an On Demand Services team specialist who understands dispatch and support processes for the client, and access to all of the project management, transition management, tools management, and service teams.  As our success grows, the Program Manager will build the operational team as required, adding in areas of focus, and finding ways to grow the business together.  All of this is overseen by an Executive Team Sponsor, who will meet with the team on a weekly basis to remain close to each of the accounts, and allocate resources as warranted.
High Wire is committed to the success of our partners, and grateful for the chance to provide services to some of the greatest customers in the industry.  We welcome the opportunity to show you how our Customer Success Teams can work to support your organization.
For more information, contact us at sales@highwire or visit us on the Web at www.highwirenetworks.com