High Wire Networks, Inc. (OTCQB: HWNI), a leading global provider of managed cybersecurity and IT enablement services, received a top ranking in the new Frost & Sullivan (F&S) report on the cybersecurity industry, 'Frost Radar™: Americas Managed and Professional Security Services, 2023.'
Across a field of more than 120 competitors, Frost & Sullivan ranked High Wire Networks among the Top 12 Managed Security Service Providers (MSSPs) that are delivering the greatest results in the categories of growth and innovation.
Frost & Sullivan noted that while High Wire is a relatively new market entrant, "it is growing incredibly fast due to its partner-focused strategy, flexibility, and a portfolio underpinned by open XDR," which for High Wire takes the form of its flagship Managed Extended Detection and Response (MXDR) technology.
"Our ranking of High Wire as a leading MSSP reflects its high degree of growth and innovation," stated Frost & Sullivan cybersecurity industry analyst, Lucas Ferreyra. "Thanks to its Overwatch solution, it has carved out a growing niche in the Americas market."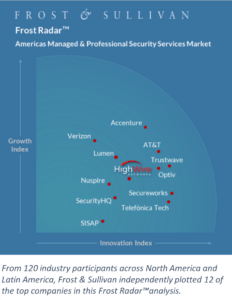 High Wire's Overwatch managed cybersecurity solution overlays its security operation center (SOC) with Open MXDR and its proprietary Security Orchestration Automation and Response (SOAR) technology. Together, these technologies effectively cut through the noise and enables rapid user drill down on real threats. This approach delivers enhanced operationalization of cybersecurity that enables a company's security posture to continuously evolve with the ever-quickening pace of 'cybertime' and intensifying cyber risk.
"High Wire's flexibility and focus on vendor-agnostic integration closely align with current market needs," added Ferreyra. "Its vision and mission resonate strongly with MSPs in the region that are looking to partner with vendors that allow them to capitalize on their existing security stack while guiding them on their security maturity journey."
In the category of innovation, the report highlights how High Wire engages MSPs, value-added resellers, and other resellers as channel partners with "the goals of vendor-agnostic integration and flexibility, and delivers a comprehensive SOC-as-a-service built around its Open SOAR and Open XDR solutions. It consolidates its partners' existing security stack, avoiding vendor lock-in and capitalizing on previous investments."
High Wire's Overwatch platform includes, "continuous vulnerability scanning, phishing testing, managed EDR, SASE, IAM, and network detection and response." To increase flexibility, "High Wire offers to fully manage security in the customer's environment (including incident response) or co-manage it and provide guidance on the security maturity journey along the way."
Regarding growth, the report noted that while "High Wire Networks has only a small share of the Americas MSS and PSS market, its growth potential is high and its revenue growth is impressive, reaching triple digits and surpassing most competitors for the last three years."
As a key element supporting this growth, F&S reported that High Wire Networks has established more than 200 channel distribution points, "including significant IT distribution companies, such as TD Synnex, value-added resellers, and MSPs across North America."
For these channel partners, "High Wire Networks creates significant opportunities at every engagement with MSPs by first offering a single service or solution and migrating upward to Open XDR and Open SOAR. Every deal has the upsell potential for the MSP or reseller to migrate its entire customer base to High Wire Networks' services, augmenting the growth potential significantly."
High Wire president and CEO, Mark Porter, commented: "Our high ranking by Frost & Sullivan reflects the tremendous contributions by our Overwatch team as well as the feedback from our valued channel partners who trust us to deliver best-in-class cybersecurity operationalization."
"In addition to growth and innovation, Frost & Sullivan considered our scalability and alignment with mega trends emerging in the marketplace," continued Porter. "As the report highlights, we have demonstrated that our solution can solve today's real problems of cybersecurity, compliance and risk management, as well as evolve and scale with today's increasingly complex risk environment."
High Wire's IT enablement offering, comprised of professional and managed IT services, addresses a global IT service market that is expected to grow at a 5.8% CAGR to reach $2.6 trillion by 2030. Its Overwatch offering addresses a global cybersecurity market that is projected to grow at a 13.4% CAGR to reach $376 billion by 2029.
About High Wire Networks
High Wire Networks, Inc. (OTCWB: HWNI) is a fast-growing, award-winning global provider of managed cybersecurity and IT enablement services. Through more than 600 channel partners, it delivers trusted managed services for nearly 1,000 managed security customers and tens of thousands of technology customers. Its end-customers include hundreds of Fortune 500 companies and the nation's largest government agencies.
The company's Overwatch by High Wire Networks™ platform offers a range of subscription services for threat prevention, detection and response to meet the security and compliance requirements of organizations large and small. The company's IT enablement services provide the foundation for growing its higher-margin Overwatch business.
High Wire has 350 employees worldwide and seven U.S. offices, including a U.S. based 24/7 Network Operations Center and Security Operations Center in Chicago, with additional regional offices in Toronto, Puerto Rico and UK.
Learn more at HighWireNetworks.com. Follow the company on Twitter, view its extensive video series on YouTube or connect on LinkedIn.
Forward-Looking Statements
The above news release contains forward-looking statements. The statements contained in this document that are not statements of historical fact, including but not limited to, statements identified by the use of terms such as "anticipate," "appear," "believe," "could," "estimate," "expect," "hope," "indicate," "intend," "likely," "may," "might," "plan," "potential," "project," "seek," "should," "will," "would," and other variations or negative expressions of these terms, including statements related to expected market trends and the Company's performance, are all "forward-looking statements" within the meaning of the Private Securities Litigation Reform Act of 1995 and involve a number of risks and uncertainties. These statements are based on assumptions that management believes are reasonable based on currently available information, and include statements regarding the intent, belief or current expectations of the Company and its management. Prospective investors are cautioned that any such forward-looking statements are not guarantees of future performances and are subject to a wide range of external factors, uncertainties, business risks, and other risks identified in filings made by the company with the Securities and Exchange Commission. Actual results may differ materially from those indicated by such forward-looking statements. The Company expressly disclaims any obligation or undertaking to update or revise any forward-looking statement contained herein to reflect any change in the company's expectations with regard thereto or any change in events, conditions or circumstances upon which any statement is based except as required by applicable law and regulations.
Frost Radar™ is a trademark of Frost & Sullivan, Inc. All other trademarks are the property of their respective owners.
Company Contact
Mark Porter, President and CEO
High Wire Networks
Tel +1 (952) 974-4000
Media Relations
Susanna Song
VP of Marketing and Communications
High Wire Networks
Tel +1 (952) 974-4000
Tim Randall
CMA Media Relations
Tel +1 (949) 432-7572
Investor Relations
Ronald Both or Grant Stude
CMA Investor Relations
Tel +1 (949) 432-7557