Partner Profile: Global Systems Integrator
Use Case:
Multi-site, multi-tech large scale rollout for a specialty retailer with thousands of stores in all 50 states, the District of Columbia, Puerto Rico, the U.S. Virgin Islands to:
Deliver frictionless and interconnected retail experience
Merge online and in-store shopping experience
Requirements:
Support SI partner with logistics, field technicians and deliverables management
Manage billing/invoice upfront for project resources
Accelerated ramp up (within 2 weeks) to start implementation of partner's managed services solutions at hundreds of stores
Solutions:
Technology refresh to improve Wi-Fi at several hundred stores
High Wire's easy-to-engage process to coordinate right person, right place and right skills
Deploy resources at peak cadence to 45 stores per week (10-12 stores per night) from coast to coast
Single point of contact for deliverables
Outcomes:
Partner leveraged High Wire's easy-to-engage process to deliver multiple technologies at scale
High Wire added value to the partner, with actionable insight to improve the delivery model
End customer extended its connectivity beyond the traditional edge, to areas outside of the store and hand-held devices for employees
High Wire strengthened partner relationship through escalations and unforeseen challenges, and worked side-byside to deliver together for the customer

We believe our vast experience in the technology service delivery business and large-scale rollouts provides our partner a strategic advantage. We leveraged our expertise to innovate and modify the proposed solution to drive efficiency and quality. At High Wire Networks we are always looking for what we can do better and how we can continue to evolve our solutions.
Charles Hughes, COO of High Wire Technology Services.
Partner-Led Service Delivery
In four and a half months, High Wire worked in sync with a global systems integrator partner to deliver wireless solutions, including predictive surveys, and network cabling solutions at 452 stores across the U.S. The partner leveraged High Wire's vast network of field technicians and engineers and global command center services to complete the technology refresh. The complex service delivery included synchronous deployments to multiple stores across the U.S., and during store off hours. In the short few months, High Wire installed more than 19,000 access points and 1.57 million feet of cable, submitted more than 408,000 deliverables, and managed more than 3,600 resources. Read the chart below for more impressive metrics.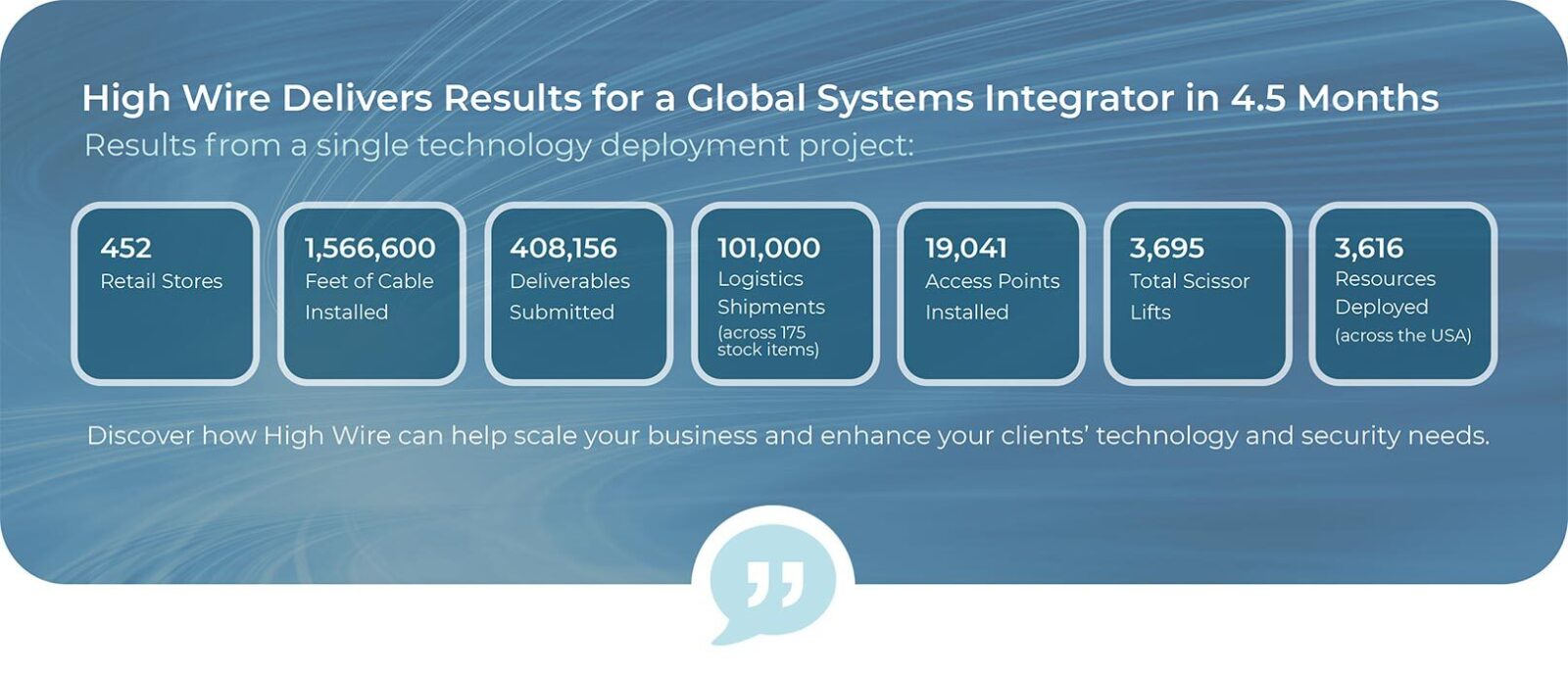 We are thrilled to partner with a systems integrator who trusts High Wire to deliver across our stack of technology services that will improve their customer's business efficiency and overall customer satisfaction. We are proud to consistently deliver an easy-to-engage process that aligns with our partner, offers subject-matter expertise, and gets work done efficiently and cost-effectively.
Don Schmidt, EVP of High Wire Technology Services
The High Wire Difference
Time to Revenue – the ability to scale quickly and effectively to manage deployments has led to projects finishing faster
Logistics and Planning – we get the right people with the right skills to the right place, taking the complexity out of service delivery for our partner across the globe
Integration of Services – we are the partner's single point of contact for networking solutions, networking managed services, network monitoring and network security
Vendor Agnostic – our subject matter expertise is not limited to a technology or manufacturer- we deliver services across the gamut to undergird our partners' service delivery