Nathan Shankland's eyes were glued to his computer screen as he monitored video feeds from six hidden cameras surveilling a storage facility in Memphis, Tennessee.  Shankland recalls the time was 3:13 a.m. CDT on September 25 when Overwatch Intelligent Video Surveillance Solution (iVS) detected motion on the property. The management console, which leverages real-time artificial intelligence, immediately triggered an incident queue. Shankland, an iVS analyst for High Wire Networks, who closely monitors video feeds, clicked on the incident queue. From his remote workstation, he could see two men breaking into storage units. He immediately called Memphis police and directed them to the facility.
For the next half hour, he stayed on the phone with the 911 dispatcher, detailing where the burglars were in relation to the police officers who had arrived on the scene. From several different camera angles, he watched in real time as the two suspects carted items out of the storage units. Forty-five minutes from the moment Overwatch iVS detected motion, police officers arrested the two burglars.
"I was pretty excited when it happened," said Shankland. "I am glad I helped police catch them and stopped a crime from occurring that night."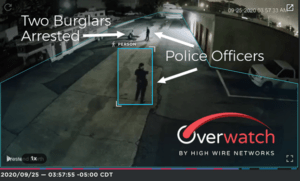 Overwatch iVS simplifies video surveillance by unifying cameras and sensors- including legacy systems- under a complete AI-driven incident management platform. It is one of several managed security services that fall under the Overwatch Managed Security Platform by High Wire Networks. The incident management console leverages AI to detect and filter incidents, which allows High Wire analysts to monitor multiple cameras without compromising safety. High Wire provides 24/7 monitoring of the iVS solution and the appropriate response, whether that is to alert the facility staff, police, fire or emergency medical services. Learn more about Overwatch Managed Security and Overwatch iVS at www.highwirenetworks.com/overwatch or send an email to overwatchsales@highwirenetworks.com.