High Wire Networks Partners with Alien Vault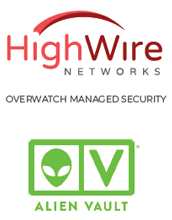 High Wire Networks is a trusted partner providing professional and managed services for the nation's top Value-Added Resellers, Systems Integrators, Manufacturers, MSPs, MSSPs and Distributors. For nearly 20 years we've delivered services at scale and depth. Our services include National and International roll-outs, installations, low-voltage cabling, electrical and managed security services, High Wire Networks does not sell direct- we never compete against our valued partners.
Alien Vault's partnership underscores High Wire's commitment to provide effective security monitoring, threat detection and an incident response platform that meets compliance and security framework requirements.