High Wire Networks (HWN) wasted no time on behalf of a multimillion-dollar value-added reseller partner, to install new firewalls and switches and replace access points for a garbage and recycling services company,
The VAR leveraged High Wire Networks for a rack-and-stack install at 800+ locations across North America in a 41-week period. At each location, High Wire replaced firewalls, switches and two to four access points as needed. At the height of the project, High Wire's project managers and coordinators scheduled and deployed technicians to 60 sites in one week. (Source: graph below)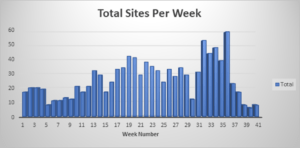 The network upgrade has not only improved the end-customer's connectivity but also more significantly, has given High Wire's channel partner the confidence and trust in HWN's subject-matter expertise, highly flexible and customizable engagement models, and efficient workforce.
High Wire Networks is 100% channel-only, delivering vendor-agnostic technical field, professional and cybersecurity services around the world without excessive overhead. Let's start a new project together: sales@highwirenetworks.com