BATAVIA, IL, April 20, 2018:  High Wire Networks is thrilled to win Best in Class: Most Innovative Approach to Service Delivery Award at the Field Service USA 2018 Conference in Palm Springs, California.  CEO and President Mark Porter accepted the award on behalf of the company.
High Wire competed against Solar Turbines and Siemens Healthcare in the category. The three nominees presented their ideas Tuesday and took Q&A in front of the advisory board. Board members voted and announced the winner, High Wire Networks, Thursday night at the awards reception and platinum party.  Winners of the other categories included Cox Communications for Best Service & Support Strategy Team Implementation and Porsche for Most Effective Technology Deployment.
"This is a team win," exclaimed Porter. "We use technology to innovate and drive outcomes for the world's best clients."
This esteemed trophy is for High Wire's customers and clients. It goes beyond just an acknowledgement. They are the recipients of an award winning, innovative approach— an experience that will deliver transparency, interactive real-time information, creative use of video, efficiency, organization and options for self-service and collaboration. High Wire's new mapping tool will integrate these features and applications to Get Work Done.
Field Service USA's weeklong conference brought together industry leaders to network and learn new techniques and best practices. The panels and workshops addressed elevating service business in a digital world, artificial intelligence and machine learning, digital tools impacting customer satisfaction, and much more.
For more information about High Wire Networks and the company's services and tools, send an email: sales@highwire or call: 952.974.4000
(Mark Porter with Charles Hughes, VP of Field Services for Acuative)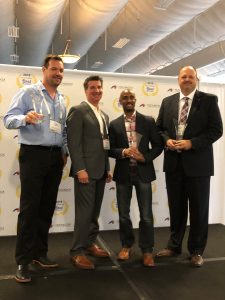 (Mark Porter with reps. from Porsche and Cox Communications!)