High Wire Networks, Inc. (OTCQB: HWNI), a leading global provider of managed cybersecurity and IT enablement services, has been named by CRN Magazine to its MSP 500 and Elite 150 lists for 2023. CRN has long been recognized by the IT industry as the No. 1 trusted source for IT channel news, analysis and insight delivered online and in print.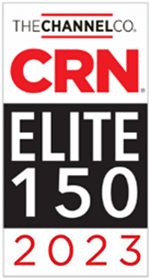 The CRN MSP 500 recognizes the nation's leading managed service providers "whose forward-thinking approach to providing managed services is changing the landscape of the IT channel." Honorees selected for the MSP Elite 150 category "have an extensive managed services portfolio, including on-premises and off-premises capabilities, weighted toward midmarket and enterprise customers."
According to Blaine Raddon, CEO of The Channel Company, the publisher of CRN:  "Managed services offer a path for businesses of all sizes to remain efficient and flexible as they grow. The solution providers on our 2023 MSP 500 list are bringing innovative managed services portfolios to market, helping their customers win by doing more with the IT budgets they have and freeing up resources to focus on mission-critical activities to drive future success."
The listings follow High Wire's recent ranking by Frost & Sullivan as a Top 12 Managed Security Service Provider in the Americas and the company's onshoring of 100% of its network and security operation centers to Batavia, Illinois. The security operation center is powered by the company's award-winning Overwatch managed cybersecurity platform. Over the past year, Overwatch's user base has expanded by more than 430% to nearly 1,000 SMBs and enterprise customers worldwide, including a number of Fortune 500 global companies.
"This valued recognition by CRN reflects the dedication and superior capabilities our managed service teams deliver every day for our channel partners and end-customers worldwide," commented High Wire CEO, Mark Porter. "Our Elite 150 ranking highlights how our flexibility and focus on vendor-agnostic integration closely aligns with current market needs. It also shows how our vision and mission align with MSPs, VARs and IT providers that are looking to capitalize on their existing security stack while receiving the best guidance on their security journey."
"We see this vendor-agnostic integration approach with these channel partners as a key differentiator that allows us to consolidate their existing security stack and provide a comprehensive managed services solutions that is second to none," added Porter. "We believe this advantage will continue to drive our rapid growth and market expansion."
Membership of the company's innovative channel partner program now totals more than 600  worldwide, including companies that make up the Fortune 500. It is comprised of leading MSPs, IT firms
Telcos, hardware and software manufacturers, global system integrators, value added resellers and distributors, and strategic consulting firms. These partners have turned to High Wire to better address their customers' growing demand for more manageable and effective IT and cybersecurity solutions.
The MSP 500 and Elite 150 lists will be featured in the February 2023 issue of CRN Magazine and online at www.crn.com/msp500.
This was the third award from CRN that High Wire has received over the last few years. In 2022, High Wire's vice president of sales, Kim Stoltz, was featured on CRN's list of Power 70 Solution Providers, an elite subset of honorees chosen from the annual CRN Women of the Channel list. In 2021, High Wire's VP of communications and marketing, Susanna Song, was also named to CRN's Women of the Channel.
Stephan Tallent was named a 2022 CRN Channel Chief, prior to joining High Wire as its chief revenue officer of Overwatch Managed Security in December.
To learn more about High Wire Networks and its award-winning managed cybersecurity and IT enablement services, go to HighWireNetworks.com  or view the company's free video series on YouTube.
About CRN
CRN, a media brand of The Channel Company, is the No. 1 trusted source for IT channel news, analysis and insight online and in print. The CRN editorial staff provides objective reporting on daily technology and channel news, events and trends, empowering solution providers such as systems integrators, value-added resellers, managed service providers (MSPs), strategic service providers and IT consultants to maintain a competitive advantage and deliver the business outcomes their customers need.
Its coverage can be found at CRN.com and in CRN magazine, which prints six times per year plus special issues.
Since 1982, CRN's talented team of editors has reported on the news solution providers need to build successful businesses. CRN is the go-to source for breaking news on the IT channel, including technology vendors' channel programs, channel management executives and product and services portfolios; distributors and cloud distributors; MSP platform vendors and solution providers themselves. Coverage crosses over a variety of technology areas, including cloud, security, data center, networking, software, storage, managed services, computing and components and peripherals.
 About High Wire Networks
High Wire Networks, Inc. (OTCWB: HWNI) is a fast-growing, award-winning global provider of managed cybersecurity and IT enablement services. Through more than 600 channel partners, it delivers trusted managed services for nearly 1,000 managed security customers and tens of thousands of technology customers. Its end-customers include hundreds of Fortune 500 companies and the nation's largest government agencies.
The company's Overwatch by High Wire Networks™ platform offers a range of subscription services for threat prevention, detection and response to meet the security and compliance requirements of organizations large and small. The company's IT enablement services provide the foundation for growing its higher-margin Overwatch business.
High Wire has 350 employees worldwide and seven U.S. offices, including a U.S. based 24/7 Network Operations Center and Security Operations Center in Chicago, with additional regional offices in Toronto, Puerto Rico and the UK.
Learn more at HighWireNetworks.com. Follow the company on Twitter, view its extensive video series on YouTube or connect on LinkedIn.
Forward-Looking Statements
The above news release contains forward-looking statements. The statements contained in this document that are not statements of historical fact, including but not limited to, statements identified by the use of terms such as "anticipate," "appear," "believe," "could," "estimate," "expect," "hope," "indicate," "intend," "likely," "may," "might," "plan," "potential," "project," "seek," "should," "will," "would," and other variations or negative expressions of these terms, including statements related to expected market trends and the Company's performance, are all "forward-looking statements" within the meaning of the Private Securities Litigation Reform Act of 1995 and involve a number of risks and uncertainties. These statements are based on assumptions that management believes are reasonable based on currently available information, and include statements regarding the intent, belief or current expectations of the Company and its management. Prospective investors are cautioned that any such forward-looking statements are not guarantees of future performances and are subject to a wide range of external factors, uncertainties, business risks, and other risks identified in filings made by the company with the Securities and Exchange Commission. Actual results may differ materially from those indicated by such forward-looking statements. The Company expressly disclaims any obligation or undertaking to update or revise any forward-looking statement contained herein to reflect any change in the company's expectations with regard thereto or any change in events, conditions or circumstances upon which any statement is based except as required by applicable law and regulations.
CRN is a registered trademark of The Channel Company, LLC.  All other trademarks are the property of their respective owners.
Company Contact
Mark Porter, CEO
High Wire Networks
Tel +1 (952) 974-4000
Media Relations
Susanna Song
VP of Marketing and Communications
High Wire Networks
Tel +1 (952) 974-4000
Tim Randall
CMA Media Relations
Tel +1 (949) 432-7572
Investor Relations
Ronald Both or Grant Stude
CMA Investor Relations
Tel +1 (949) 432-7557