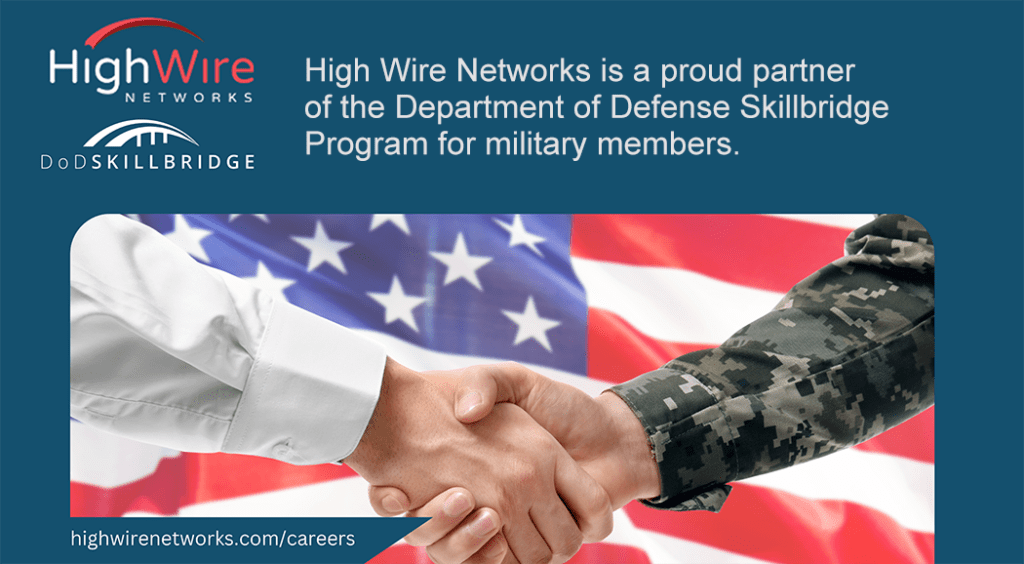 High Wire Networks, Inc. (OTCQB: HWNI), a leading global provider of managed cybersecurity and technology enablement, has launched a cybersecurity job training program for retiring military service members and veterans in partnership with the U.S. Department of Defense (DoD).
As a select member of the DoD SkillBridge program, High Wire offers current and former service members a broad range of classroom education and on-the-job training designed to help them secure high-paying IT jobs that are in increasing demand.
According to the DoD, enlisted service members can be granted up to 180 days of permissive duty at the end of their time of service to focus solely on their participation in the program. In addition to veterans, the program also extends to national guard and reserve members, as well as military spouses.
Through High Wire's SkillBridge program, participants will learn about the practical application of information technology for SMBs and large enterprises, including cybersecurity services, IT upgrades and deployments, computer networking and technical support. They can also learn about the latest innovations in computer and networking hardware, software, managed services and project management.
For High Wire, the program creates an ideal environment for workforce development and a competitive advantage as the demand for IT and cybersecurity talent now far outpaces supply. Military service has also long been an integral part of the High Wire ecosystem, with several members of the executive team and staff having served their country as members of the armed forces.
This includes the company's chief technology officer, David Barton, who served in the Air Force; chief operating officer, Charles Hughes, who served in the Army; and Overwatch Security Operations Center (SOC) analyst, Nicholas Burnett, who served in the Air Force. Chief Revenue Officer Stephen Tallent's father served in the Navy.
"We believe individuals who have undergone military training and have developed the discipline required of their service can be well suited to the task of combating security threats like we do every day with our Overwatch cybersecurity platform," commented Hughes who retired from the Army as a first sergeant. "From our experience, military veterans can bring a heightened level of determination, integrity and dedication to their job, as well as a thorough understanding of the mission when it comes to getting the job done and done right."
Added Tallent: "While teaching the challenges of new technologies and cyberthreats is an important component of the SkillBridge program, for us it has a deeper purpose. By providing veterans this opportunity, it furthers our overriding mission of 'doing well by doing good.' We will not be simply providing education and training but will also be helping these service members discover their unique talents and develop their personal brand. We will be preparing them for success in the commercial workforce, whether it be at High Wire or wherever their aspirations take them."
The High Wire DoD SkillBridge program builds on the company's long-standing relationships with U.S. government agencies, including the Department of Veterans Affairs, Department of Defense, Department of Agriculture, U.S. Marshall Service, Social Security Administration and the Forest Service.
To learn more about the High Wire Networks DoD SkillBridge program, click here.
About High Wire Networks
High Wire Networks, Inc. (OTCQB: HWNI) is a fast-growing, award-winning global provider of managed cybersecurity and IT enablement services. Through more than 625 channel partners, it delivers trusted managed services for nearly 1,000 managed security customers and tens of thousands of technology customers. Its end-customers include hundreds of Fortune 500 companies and the nation's largest government agencies.
High Wire has 125 full-time employees worldwide and four U.S. offices, including a U.S. based 24/7 Network Operations Center and Security Operations Center in Chicago, with additional regional offices in Puerto Rico and United Kingdom.
High Wire was recently ranked by Frost & Sullivan as a Top 12 Managed Security Service Provider in the Americas. It was also recently named to CRN's MSP 500 and Elite 150 lists of the nation's top IT managed service providers.
Learn more at HighWireNetworks.com. Follow the company on Twitter, view its extensive video series on YouTube or connect on LinkedIn.
Forward-Looking Statements
The above news release contains forward-looking statements. The statements contained in this document that are not statements of historical fact, including but not limited to, statements identified by the use of terms such as "anticipate," "appear," "believe," "could," "estimate," "expect," "hope," "indicate," "intend," "likely," "may," "might," "plan," "potential," "project," "seek," "should," "will," "would," and other variations or negative expressions of these terms, including statements related to expected market trends and the Company's performance, are all "forward-looking statements" within the meaning of the Private Securities Litigation Reform Act of 1995 and involve a number of risks and uncertainties. These statements are based on assumptions that management believes are reasonable based on currently available information, and include statements regarding the intent, belief or current expectations of the Company and its management. Prospective investors are cautioned that any such forward-looking statements are not guarantees of future performances and are subject to a wide range of external factors, uncertainties, business risks, and other risks identified in filings made by the company with the Securities and Exchange Commission. Actual results may differ materially from those indicated by such forward-looking statements. The Company expressly disclaims any obligation or undertaking to update or revise any forward-looking statement contained herein to reflect any change in the company's expectations with regard thereto or any change in events, conditions or circumstances upon which any statement is based except as required by applicable law and regulations.
Company Contact
Mark Porter, CEO
High Wire Networks
Tel +1 (952) 974-4000
Media Relations
Susanna Song
VP of Marketing and Communications
High Wire Networks
Tel +1 (952) 974-4000
Tim Randall
CMA Media Relations
Tel +1 (949) 432-7572
Investor Relations
Ronald Both or Grant Stude
CMA Investor Relations
Tel +1 (949) 432-7557
Email contact